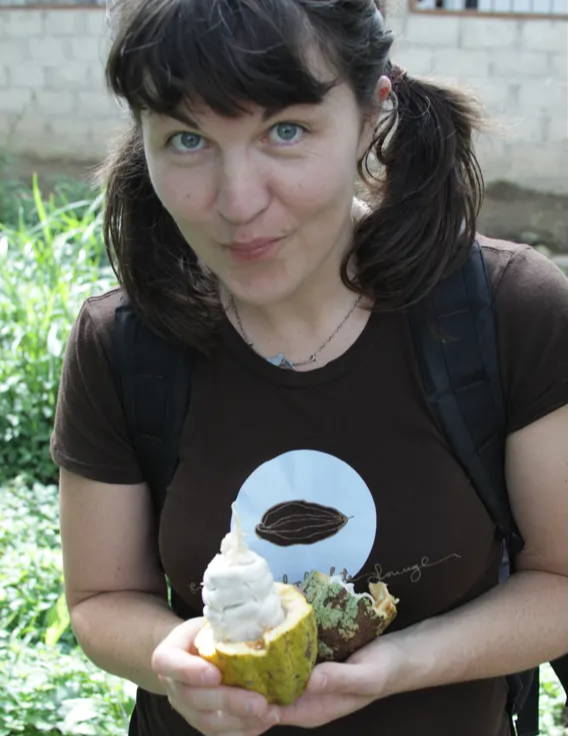 French Broad Chocolate co-founder and CEO, Jael Skeffington, tastes fresh cacao on a sourcing trip in Peru.
Cacao pods litter the jungle floor in Guatemala.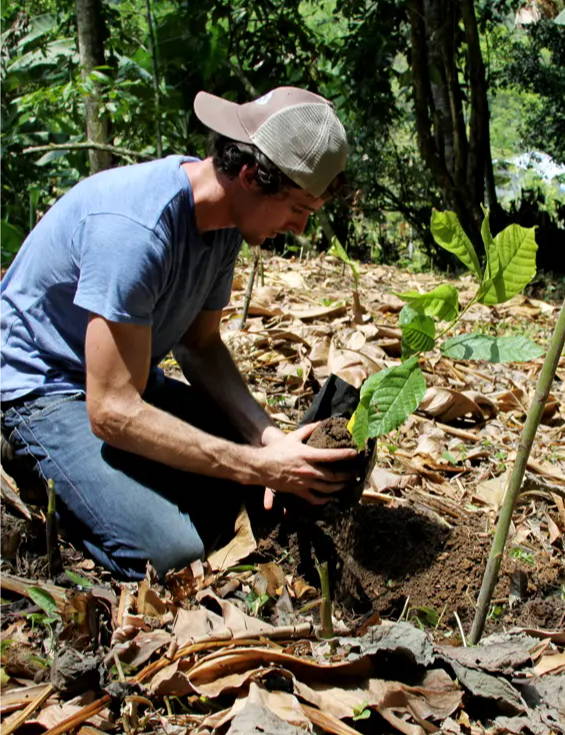 French Broad Chocolate co-founder and CIO, Dan Rattigan, plants a cacao tree in Costa Rica.

Since the beginning, French Broad Chocolate has been deeply committed to sustainability. Dan and Jael's pilgrimage from Costa Rica to Asheville was on a bus Dan converted to run on waste fryer oil... with auxiliary power supplied by a solar panel he mounted on the roof!
At our Chocolate factory in the RAMP Studios, we share our cacao shell mulch with local farmers and gardeners, and anything that can be composted is picked up by our colleague Danny of Danny's Dumpster, helping build our local soil fertility.
The list of initiatives we have taken to minimize our environmental footprint is a source of pride, but our most longstanding and devoted effort is in the purity and wholesomeness of our food.
Living in the fertile southern Appalachian mountains amid kindred agrarian spirits, we look no further than a holler in Old Sandy Mush for our flats of strawberries each spring, or Annie Louise's market stand for our fall pumpkins. We believe in supporting our community and its economy and are blessed to be surrounded with good food; chocolate and desserts are our contributions to that goodness! We must reach outside our foodshed for a few of our staples (like cacao and sugar!), but we remain true to our values, seeking farmers and producers whose values are in line with our own.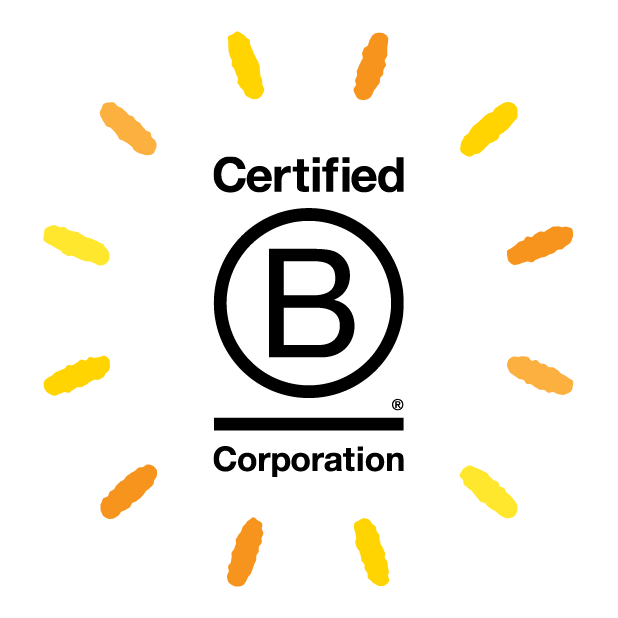 We envision a global economy that uses business as a force for good. As B Corporations and leaders of this emerging economy, we believe: That we must be the change we seek in the world. That all business ought to be conducted as if people and place mattered. That businesses should aspire to do no harm and benefit all. That we are each dependent upon another and thus responsible for each other and future generations.
Connecting you to the source: